Taming those Tangled Messes? How to Store and Travel with your Dainty Jewels!
What does your jewelry organization game look like? Maybe a tangled mess or a giant mound in the pit of your jewelry box? Is it all over your dresser making you feel cluttered and overwhelmed? Jewelry boxes and hooks just aren't cutting it, are they? Here is fool-proof way to declutter your jewelry, get it off your dresser and easily on your body or in that suitcase for your next big trip…
1. First, it is time to purge! When I am trying to simplify my jewelry collection or wardrobe, I ask myself this question: If I found it in a store today, would I buy it? If the answer is no, I donate it or hand it off to someone else - mostly my kiddos. If it holds any sentimental value though, it's a keeper.
2. Purchase some clear, plastic bags—not your typical Ziplock sandwich bags—but something thicker and sturdier. Here is an option that works well.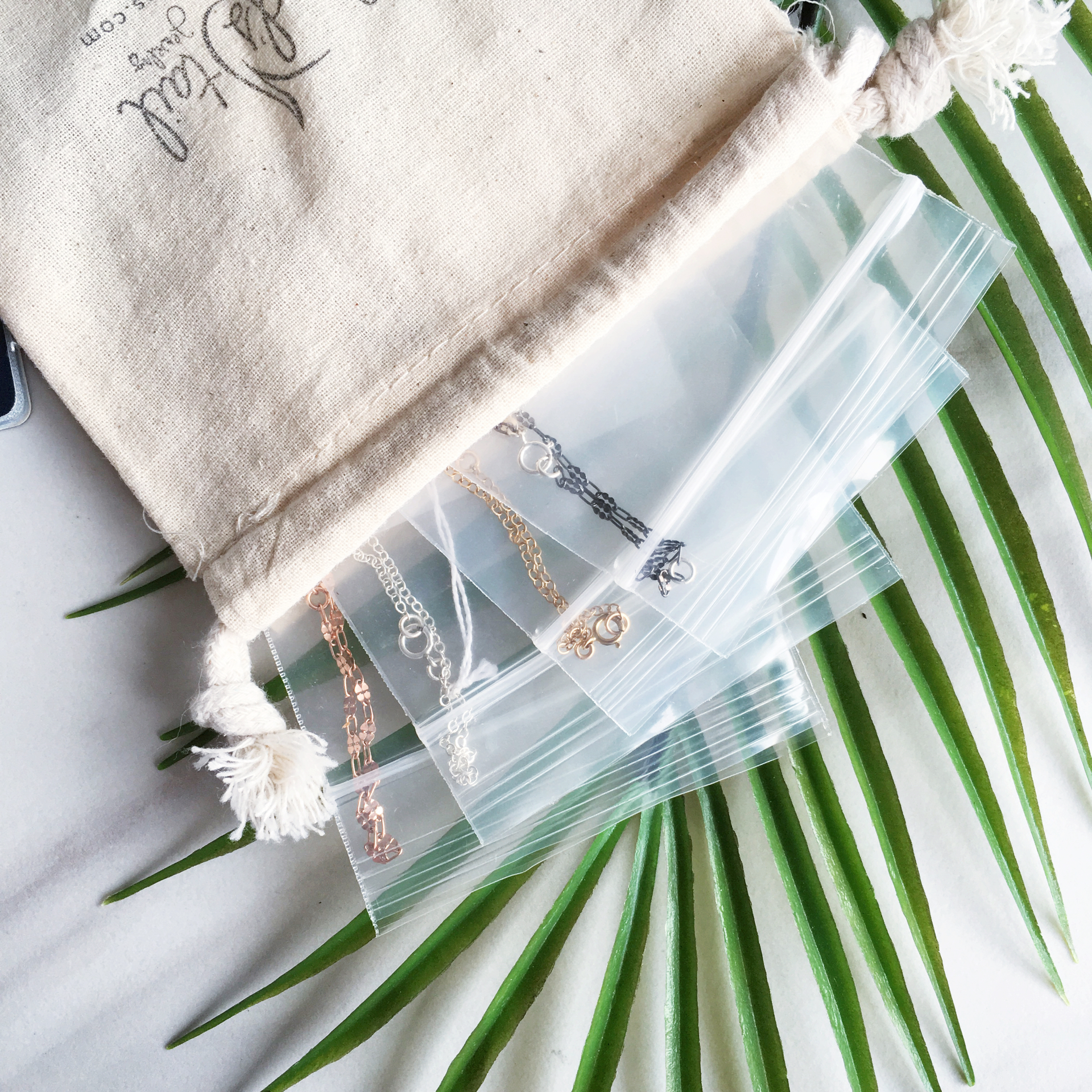 1. Once you have those zip bags, it's time to organize. Each necklace or chain bracelet gets its own zipper bag. Place each piece carefully into the bag. Before you zip that bag though—the next step is the most important one…
2. Zip just a TINY portion of the chain of each piece of jewelry into the actual zipper of each bag. Seal the zipper tight to make sure that your jewelry doesn't slide out of its locked position. This step will help prevent your jewels from falling to the bottom of the bag resulting in a tangled mess—and it will also help preserve your metals from tarnishing.
1. Once you have all of your pieces organized neatly into their individual bags, you can stack them in your jewelry box, tray or drawer by metal choice, style or any other category that fits your collection.
2. When it's time to wear your jewelry, you can easily find each piece (since the bags are see-through!) Genius, right?!
3. If you are packing for a trip, pick a few pieces that are versatile and can be worn more than one way. Gather up your selections and store all of the clear bags in a larger bag—we like to use our large linen bags to store everything in one place!
And that's it—easy peasy. I hope this organizational method helps declutter your life a bit and gets you out the door or off to your next great destination with ease…and beautiful jewelry, of course!
With gratitude each and every day,
Kristin